Kosovar high school students march through the streets, opposing the old education system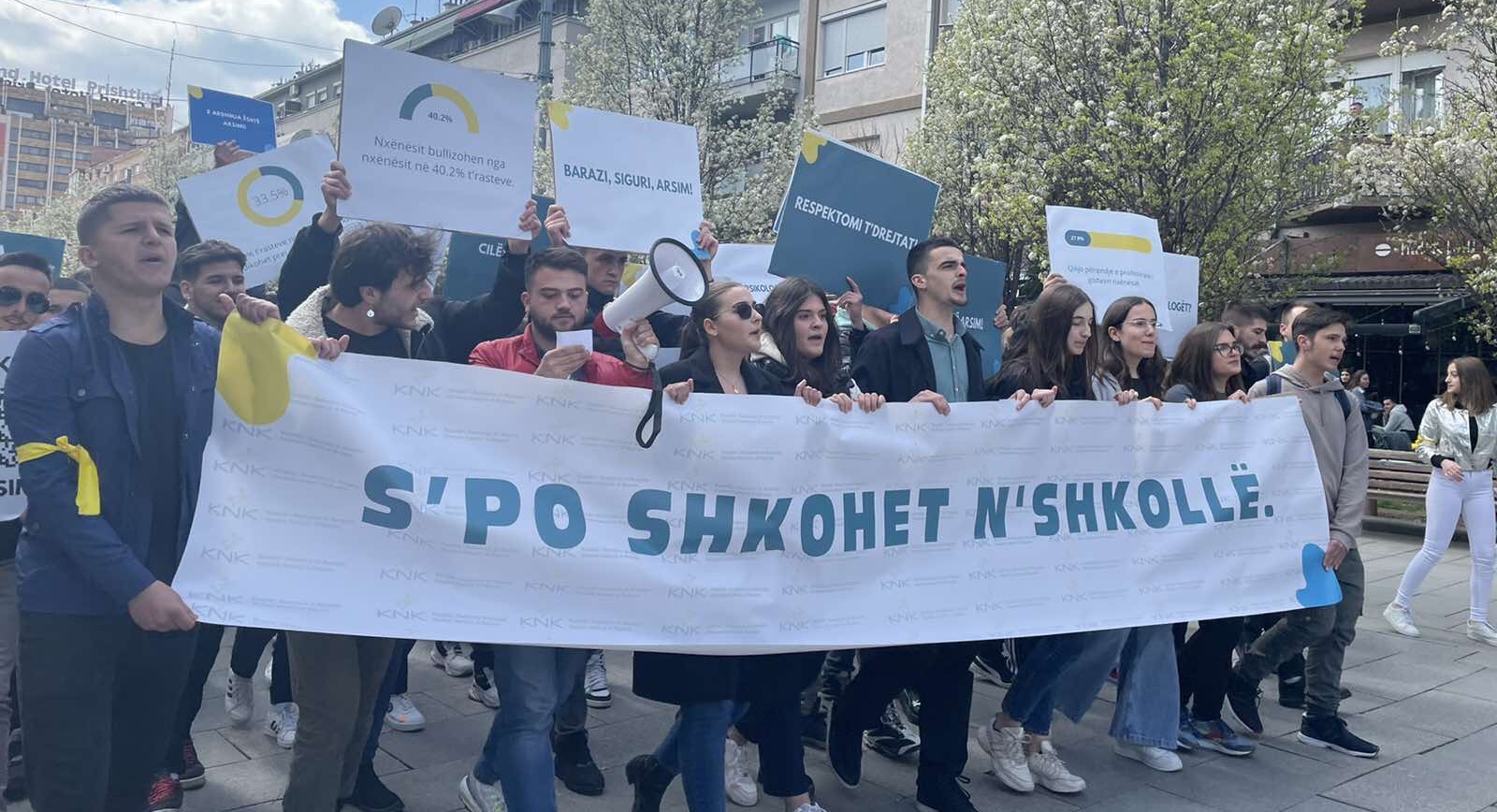 Students from Kosovo's 29 municipalities demonstrated on Tuesday in revolt against the problems they face in schools and the poor quality of education.
With the motto "No more desire to go to school", hundreds of high school students marched on Zahir Pajaziti Square in Prishtina.
Student protesters demanded more equality, safer schools, better quality education and the introduction of psychologists into schools.
The march was organized by the Kosovo Student Council, and some of their other demands regarding the quality of education, the content of teaching, the behavior of teachers, the infrastructure of schools and the negative phenomena that students face.
In addition to the capital, the march took place in 28 other municipalities in Kosovo.
Student representative Denis Krasniqi of the Kosovo Student Council said they were not going to school because every decision on education "is made for us, without us".
"When you want to talk, you have to raise your hand. When we want our rights, they [teachers] offend and harass us. When we complain, we are threatened by the power of rank," he told the government.
Krasniqi revealed a series of complaints ranging from the cleanliness of the school to discrimination, curricula, the system and the lack of psychologists.
"Our well-being is looked down upon, we are threatened by pollution and filth, and the basic conditions to maintain hygiene are lacking… We don't have daily meals, we don't have adequate toilets ", did he declare.
Students unanimously demanded that more psychologists be added to schools and that the bullying of students be stopped.
"We always learn through dictation and script. We don't have any books. We don't want to go to school because these books are old and discriminate against women and marginalized categories. School is boring, the system is old," Krasniqi added.
After this march, the Minister of Education, Science and Technology, Arberie Nagavci, reacted by saying that she was satisfied with the youth activism and that she is of the opinion that quality in education requires a common commitment.
"We share the very legitimate concern expressed by students about the state of the education system, they have the right and deserve to have a quality education, good working conditions, safe environments and equal opportunities. chances," she wrote on Facebook listing the work that has been done for education so far.
Kosovo, due to the poor quality of its education, has twice been ranked at the bottom of the list of the international assessment program, PISA.
According to PISA results, 76% of Kosovo students do not know how to reinterpret what they read and, based on these results, Kosovo ranks in the bottom third of the 79 countries participating in the test.