Momodou Sabally denounces the student loan program of the Ministry of Higher Education –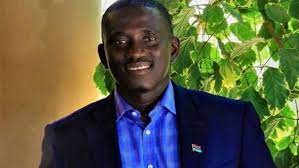 By Adama Makasuba
Momodou Sabally, a former secretary general and head of the civil service, denounced plans by the Ministry of Higher Education to introduce a higher education loan scheme next year for some of the country's needy and bright students.
However, Higher Education Minister Professor Pierre Gomez said the loan scheme aims to ensure that "we support the maximum number of people", adding that "there will be a system in place where the State will come to their aid so that they have their training. When they are finished, there will be a grace period, but they will have to reimburse the State [its money] after finding a job.
However, Sabally reacted by saying that "the scholarship for students was too big under the Jammeh government, but this government came and stopped all these scholarships. And now you say you want to give loans to students to pursue their studies and we all know that this government is not doing anything to create jobs for university graduates.What loan do you give them?Give them scholarships and create jobs for them rather than giving them loans.
Meanwhile, he added, "What saddens me the most is that the Ministry of Basic and Secondary Education has said that this year's results are better than the previous year, I say that is not true. And they said again that the education of children was affected by the coronavirus, I say that is not true either. The MoBSE should accept that its education system is not good and it is mediocre. »
"The whole country should come together and hold a national conference on education and see how we can tackle the problem of education which is bigger than aid and cancer. The MoBSE I said that when President Barrow chose his cabinet I said the person in the Ministry of Education is the most inefficient and the most inefficient and you have basic and secondary education and the 'Higher Education.
"Who was in the Ministry of Higher Education is Vice President Alieu Badara Joof, so this problem is Badara Joof and Claudiana Ayo Cole's problem. They are destroying the educational future of our children. These two people are destroying the education system of the country," he said.


Post views:
107