"The education system is not flexible for PLWD"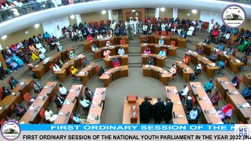 He made the remark when the youth parliament tabled the motion that says there is a need to reassess the national education policy and program in the National Assembly in Banjul.
The named member argued that access and availability of materials for people with disabilities is generally overlooked and the system is not structured for them.
"There are countless young people with disabilities in the country and they deserve to be educated, but it is unfortunate that the system does not include them in policies by providing them with special materials to learn and access education", did he declare.
Hon. Ceesay added that it is very difficult for them (disabled) to access higher education.
"Normally to test people's intellectual capacity it is done through exam performance but it is sad that in The Gambia young people living with disabilities; even if they are intellectually available to exercise or occupy certain positions in public functions, this is partially impossible for them because they are not considered.
Hon. Serrekunda MP Abdou Bah, who tabled the motion, said the education system should be improved and checked whether the content of the policy is in line with the reality of the nation.
"The current program used is not realistic with the current WASSCE results."
Hon. Kombo Sud MP Amadou A. Marong said there should be an open door policy that includes all types of education in the country.
"Arab schools are not included in the policy; they do not have standardized jobs or courses in public offices or higher education institutions to contribute to national development," he said.
Hon. The MP for Upper Nuimi said the existing policy 'does not respect skills learning'.
"Parents don't see their skill-focused kids as smart, and that's because of the way the system is structured," he said.
The young parliamentarians debated that the national education policy and curriculum should be reassessed for student betterment and national development.