The Ministry of Education salutes the contribution of IIT, NIT, IISER and IIIT in the fight against Covid-19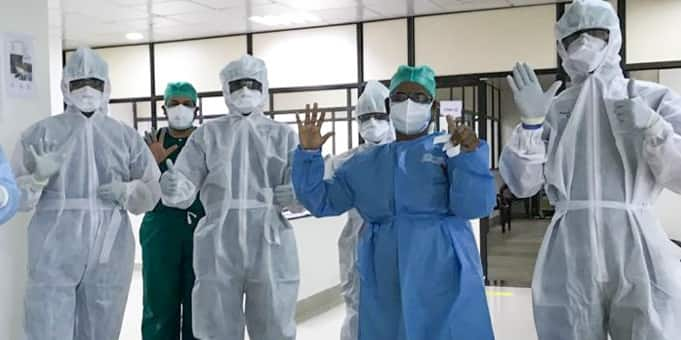 During COVID-19, incubation cells, IIT startups produced low-cost face shields, face masks, low-cost ventilators, PPE kits, RT-PCR kits, and more.
NEW DELHI: From low cost ventilators, indigenous RT-PCR kits, low cost oxygen supplementation products to mobile medical units, Indian Institutes of Technology (IIT), National Institutes of Technology (NIT), Indian Institutes of Education and Scientific Research (IISER) and Indian Institutes of Information Technology (IIIT) have been developing their new research products and innovations to meet the challenges thrown up by COVID-19 and meet the demand of society .
Recommended: [Check your admission chances in IITs/ISM based on your JEE Advanced Rank] Start here- JEE Advanced College Predictor]
In a bid to commend these Central Government Funded Technical Institutes (CFTIs) for their contribution in India's fight against the Covid-19 pandemic, the Ministry of Education has released a Covid-19 e-book highlighting their contribution.
Read also | Number of MBBS seats increased by 75%, PG by 93% since 2014: government
Keeping in mind the urgent need of society and the medical community, the Department of Higher Education provided an update on research activities in CFTIs as early as March 2020 and urged the institutes to develop technologies and alternative products to meet the new challenges posed by COVID-19.
Low-cost ventilators, indigenous RT-PCR kits, low-cost oxygen supplementation products, automatic screening equipment, mobile medical units have been successfully implemented by these institutes.
"Many of them were commercialized by the start-ups of these institutes or placed in the service of the state government, local administration. In addition, the start-ups under CFTI produced three-layer masks low cost, PPE kits, sanitizers, hand washing, thermal scanners, oximeters as a strategy of market interventions in a short period of time to check the rising cost of these products in the These institutes have made these items available to the local administration for their daily use," reads the Covid-19 e-book released by the Ministry of Education.
Read also | Admission to 45 Central Universities via CUET 2022 scores only; exam in july
Indian Institutes of Technology (IIT)
During COVID-19, despite the campus lockdown, incubation cells and IIT startups produced face shields, face masks, low-cost ventilators, PPE kits, RT-PCR kits, and more.
IIT Bombay developed and introduced applications for use by the administration. Other research products like Intensive Care Ventilators (Vi-SWAAS), Robotic Disinfection Unit, etc. to combat COVID-19 have been designed, developed and marketed.
IIT Delhi – Corona test kit, "Corosure", from IIT Delhi has been patented and successfully approved by ICMR and has been put into commercial production at low cost. IIT Delhi has also published a research paper on the effectiveness of "Ashwagandha" for COVID-19 patients, a traditional medicine used for immunity and strength in Ayurveda.
IIT Madras – Ubiqare developed by IIT Madras enables specialist doctor-led care to patients at home, reducing hospital visits and stays. These have been successfully introduced in clinical trials.
IIT Kanpur played a central role in the national project to develop the SUTRA model to predict the trajectory of Covid-19. In 2020, as the first wave of COVID-19 hit, IIT Kanpur's incubated company, Noccarc Robotics, developed an intensive care ventilator, Noccarc V310, in just 90 days. The product has worked in over 2,500 hospitals across the country.
IIT Kharagpur has developed a kit called COVIRAP, a nucleic acid-based disease detection device, and a COVICUBE device for checking oxygen saturation and respiration, which has been successfully commercialized.
IIT Roorkee has made available to the public administration fans and other products at low prices.
IIT (BHU) Varanasi is also working on various COVID-19 related projects, including one funded by the Government of India's Department of Science and Technology (DST). The institute also participates in UP government initiatives related to oxygen auditing and is also involved in various outreach activities during the COVID period.
Read also | How many schools are breaking CBSE's 'mandatory disclosures' regulations
Indian Institute of Science (IISc), Bangalore
IISC has developed a molecular diagnostic laboratory on wheels to perform end-to-end RT-PCR testing in remote areas of the country to reduce turnaround times and increase access to RT-PCR testing.
First set comprising 3 satellite laboratories and 1 nodal hub deployed in Bangalore and Delhi. Portable thermal cycler and fluorescence reader instruments enabling molecular diagnostic testing for COVID-19 and other infections are under development.
Read also | The COVID-19 pandemic has severely affected the education system: Dharmendra Pradhan

IISc has also conducted various research studies in the city of Bangalore and local commuter trains in Mumbai to investigate the spread pattern of the virus, which will be useful in the future strategy modeling for the crowded cities and its outskirts.
Indian Institutes of Science Education and Research (IISER)
IISER, Pune has developed a laboratory prototype of a low-cost, mass-produced ICU ventilator with characteristics comparable to commercially available ventilators.
"The institute also demonstrated a chemical oxygen generator capable of producing oxygen at a rate of 5-10 liters per minute by mixing readily available chemicals. It can produce sufficient breathable oxygen at sufficient flow rates without the need for electricity and can be used in the home or when transporting patients or as a stopgap solution in emergency situations," he said.
Read also | How have NIDs, Eklavya schools handled education during COVID-19?
National Institutes of Technology (NIT)
Motilal Nehru NIT, Allahabad filed patents for deep learning and detection system based on x-ray image of lungs for Covid-19, herbal antimicrobial formulation, VIRALYSER 1.0, and portable box for disinfect inanimate objects, The institute has also developed AMRIT (assessment, monitoring, reporting and intelligent tracking) application. It is a mobile application for tracking patients with cough, cold, fever or respiratory problems and is currently used by local government, pharmacists, doctors and Asha workers.
Other NITs have also developed disinfectants using different disinfection technologies, ventilators, oxygen generator systems, mobile apps, and are working on other COVID-related research projects.
Indian Institutes of Information Technology (IIIT)
IIITD&M Kancheepuram has developed a UV sanitizer designed for grocery stores and supermarkets. The product was commercialized by VLOG Innovations LLP, Chennai and is already in the market. IIIT Nagpur has signed a Memorandum of Understanding with AIIMS, Nagpur to facilitate research collaboration. As part of this MoU, the Institute has already developed an effective tracking and monitoring device for patients with COVID-19.
Read also |327 teachers, staff of Kendriya Vidyalaya, JNV, CBSE have died due to COVID-19: Govt
The Ministry of Education said: "Most of these research products are successfully tested and prototypes are ready to be transferred to industries for commercial production. Some products have already been marketed.
"These institutes need the full support of various agencies to grant necessary approvals on a priority basis for their products to be patented and successfully marketed for mass production," the ministry said.
"These products also need to be popularized by organizing fairs, electronic fairs to begin with, and strengthening the interaction of institutes with chambers of industry," he added.
---
Follow us for the latest education news on colleges and universities, admission, courses, exams, schools, research, NEP and education policies and more.
To contact us, email us at [email protected]