UGC: Working to make the education system flexible: Head of UGC, Mr. Jagadesh Kumar | India News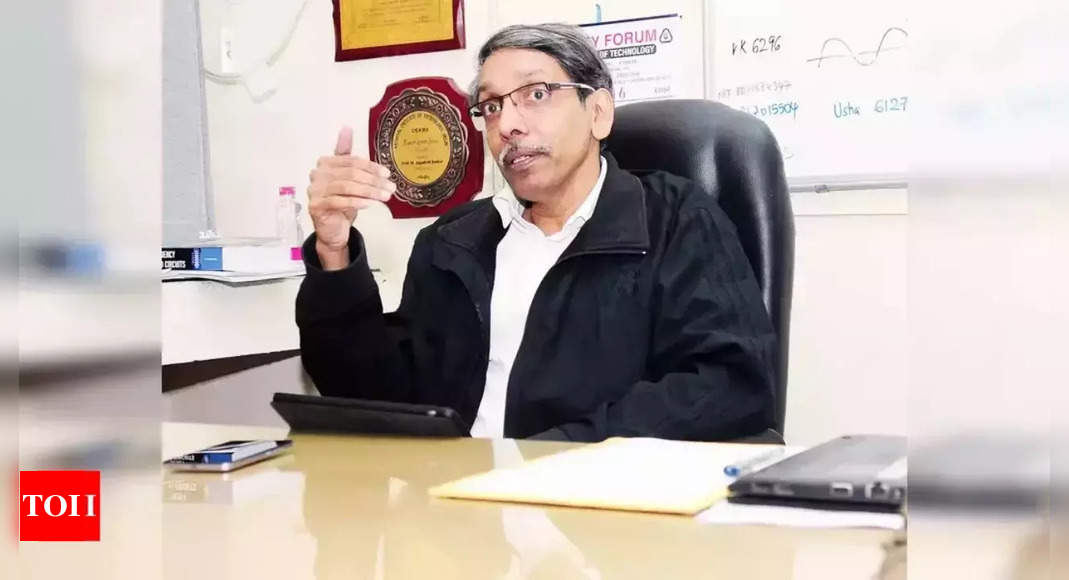 NEW DELHI: Higher education regulator University Grants Commission (UGC) is working on standards to bring flexibility to India's education system.
Once the new standards are finalized, students will be able to pursue two degrees simultaneously or even study at two different universities for one. In a conversation with Amandeep Shukla, Mr. Jagadesh Kumar also discusses how the National Digital University could bring quality education to the doorsteps of millions of students. (Edited excerpts.)
Q:
You taught at IIT Delhi and then joined the leading humanities university JNU. Now that you lead the country's higher education sector regulator, what is your vision for the future? How will you make a difference in this key role?
A:
If you look at our National Education Policy 2020, it is based on five pillars: access, equity, quality, affordability and accountability. So one of my challenges is going to be, as president of UGC, how to bring this high quality education in higher education institutes, to the doorsteps of students who come from rural backgrounds, who are there across the country, in remote areas, and especially those who come from the lower economic strata.
So that's going to be one of our biggest challenges as we roll out NEP 2020. And there's also a focus on using digital technology, both inside the classroom and also outside the classroom in higher education institutions.
Q:
Even the NEP speaks of a flexible system. So what can students expect – how fast or how long on flexible courses?
A:
Recently, we rolled out the four-year undergraduate program guidelines and asked stakeholders for their input. Once these comments are received, we will incorporate them and finally we will publish the UGC gazette notification on the four-year undergraduate program. And under this, students can study for one year and get a certificate after two years, if they want to quit the program, they will get a diploma after three years, they will get a bachelor's degree, but if they study for four years, they will obtain a bachelor's degree with research or other skills integrated into the program.
So hopefully once the new regulations come in, starting in July 2023, we can provide this flexible education for students. But one important thing that people ask is if a student drops out after a year or two, what will he do with the certificate and diploma only. We also have safeguards built in there. We say that if you leave in the middle of the program, we will also give you a six-week or eight-week skills-based training, so that you can use those skills to gain gainful employment and support yourself. So, it will happen in another year, by the next academic session in 2023.
Q:
What other big ideas are in the works?
A:
One of the other things we are introducing is the multiple entry and multiple exit system. It's related to the flexibility that we want to introduce in all the programs, whether it's an undergraduate program or a master's program, or even in the doctoral programs, we want to introduce these regimes multiple inputs and multiple outputs. Most universities have already adopted it in their statutory bodies such as the Academic Council and the Executive Council. Thus, from the next academic year, 2022 and July 23, the multi-entry and multi-exit regime will be introduced.
The other thing we've made operational is the academic credit bank. This is also related to online education. You know Prime Minister Narendra Modi talked about exams, Pareeksha Pe Charcha. And he made it very clear that online education is also very important in today's environment. So UGC is working on two things when it comes to online education, and that also ties into the college credit bank.
What two things do we do? First, we will allow some of the best universities and colleges in the country to offer degrees and certificate and degree programs online without seeking permission from UGC. To be eligible for this program, the university or college must be in the top 100 of the NIRF rankings or have an NAAC rating of 3.26 and above. This will therefore allow a large number of universities and colleges to award degrees online, which will provide great flexibility for students.
The other thing we're doing in the online regulations, which are coming next month, is we're saying that anyone who passes the 12th standard can enroll in any of the online degrees offered by these universities. .
Another important thing that we are going to do in our modified and amended online degree regulations is that we are going to allow higher education institutions to collaborate with edu-tech companies. Today, India has a very mature edtech business ecosystem. But the universities do not have the technology required to offer the degrees online. For example, a university like JNU has a lot of intellectual resources, but they may not have enough resources to create the intellectual resources in engaging digital content because it requires technology.
And even if you have engaging digital technology, where are you going to host? You need a cloud environment. You also need technology to perform proctored exams. So, in order to provide this back-end technology support, we will allow colleges and universities to partner with educational technology companies and then offer these degrees online.
And alongside that, we are also working on creating a national digital university. This will be established by an Act of Parliament.
Q:
Earlier we were talking about UGC alongside the dual degree system. What is the status?
A:
We are working on two things. First, we will soon be releasing regulations allowing students to pursue two degrees simultaneously. Let's say I'm doing B Com but I also want to do a BA in German language. Currently, the regulations do not allow this. Soon we will make it a possibility. What if a student wants to spend six months abroad at a university and come back? This is called pairing. So pairing will become a possibility once the new regulations arrive.
And also, what if I am doing a BA in DU but simultaneously want to do another BA from a foreign university, a top university, while sitting in India. Is this a possibility? Well, once the new regulations come into effect, all of these things will be possible for students.
Q:
The Ukrainian crisis has shown how Indian universities, Indian institutions for many women in many ways, are unable to meet the needs of Indian students. So they have to go abroad. Are you looking for ways to ensure that more courses tailored to the needs of Indian students are designed?
A:
There are two things we do as part of the implementation of the NEP. And this is related to the internationalization of Indian education. In part, we are encouraging international universities to come and set up their campuses in India, so that students don't have to leave the country. And the other is that we are also working on how our own Indian institutes like IITs, JNUs or DUs and other top universities can set up their own overseas campuses.
And on both, we are working. Once that happens, I'm sure students won't need to go to countries like China or Ukraine. You know, especially in China, our students have encountered a lot of difficulties. And a few weeks ago, AICTE and UGC together issued a public notice advising students to be careful when applying for admission to foreign universities.
Because especially those students, who returned from China during the COVID pandemic, they still cannot go back to China and complete their studies. So we hope that once our new regulations come into force, once foreign universities set up their campuses, there will be much more flexibility and opportunities for students while sitting in India, while living in India, they will actually be able to access education, which is of world standards.